Cottage Garden Tour (Plus cozy trip down the Coast of Maine)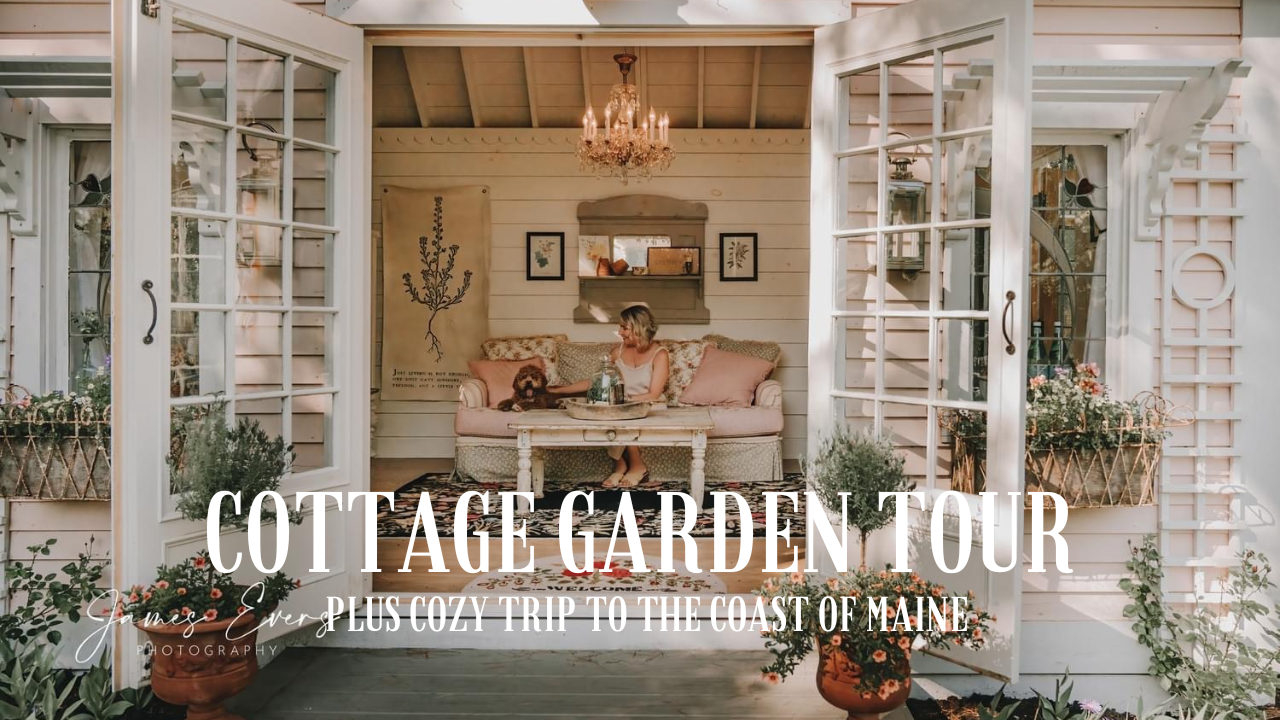 It is mid-summer and we are certainly in full-swing garden mode here at Clark Cottage Gardens! I am out in gardens now mostly for enjoyment purposes! All the hard spring work is behind me and all the hard fall work is ahead of me. I'm in the eye of the storm and just taking time to enjoy the slower pace before it picks up again. The flowers are beautiful despite the horrendous June and July we encountered. So. Much. Rain. It was quite disappointing to say the least but we, as gardeners, need to roll with the punches because there is not a lot we can do about Mother Nature, is there? So, I will say that everything is very lush and green thanks to the rain and move on.
I had a lot of success in the gardens this year. I grew a lot of plants from seed and I'm now enjoying the fruits of my labor, the gorgeous blooms! I grew a new variety of Rudbeckia that I absolutely love. It's called Sahara and it is just adorable! It has several different-colored flowers all in autumnal tones. Not my usual look for the cottage gardens but they are subtle tones of burgundy, yellow, and rust and they are sweet! They were very easy to grow and are very healthy and slug resistant. I highly recommend these for next year's gardens. Another favorite is Double Click Cosmos! Cosmos, in general, are among my favorites and I grow them every year but these Double Click are quite special, again in shades of burgundy! Am I going to the dark side?? I find this shade compliments my pastels so well. Something to think about for next year, too. I'm always planning ahead. I think that's what makes a beautiful garden each year... If something doesn't work, pull it up, move it and try something different!
As most of you know, my husband Dan and I are trying to slow down and enjoy the little things in life. A quiet walk in the garden or along the coast. A coffee in the afternoon sunshine. Walks with Dahlia, our sweet Australian Labradoodle puppy. Spending time with our grandchildren. Spending time with family and friends. We recently took a little trip down the coast of Maine to a sweet town called Castine. We met Dan's extended family and celebrated with the town during a festival called Bastille Day! It was the coziest celebration with the townspeople ending in the most spectacular picnic!! I'd love it if you would join us by watching my latest YouTube video! You will be delighted by the sights of this adorable Maine town! I am also showing a tour of my gardens and two other gardens in Castine. It's very relaxing and calming to watch (I hope!) It would mean the world to me if you would like, comment and subscribe to my channel, too, so that I could continue to make these relaxing videos for you! I really appreciate your support sooo much!
Lots of love,
Erin xoxo
Sign up to be notified when we open up the doors to
THE COTTAGE GARDEN SOCIETY
An exclusive club for cottage garden lovers
We hate SPAM. We will never sell your information, for any reason.